Women's Suffrage and Voting Rights in New Mexico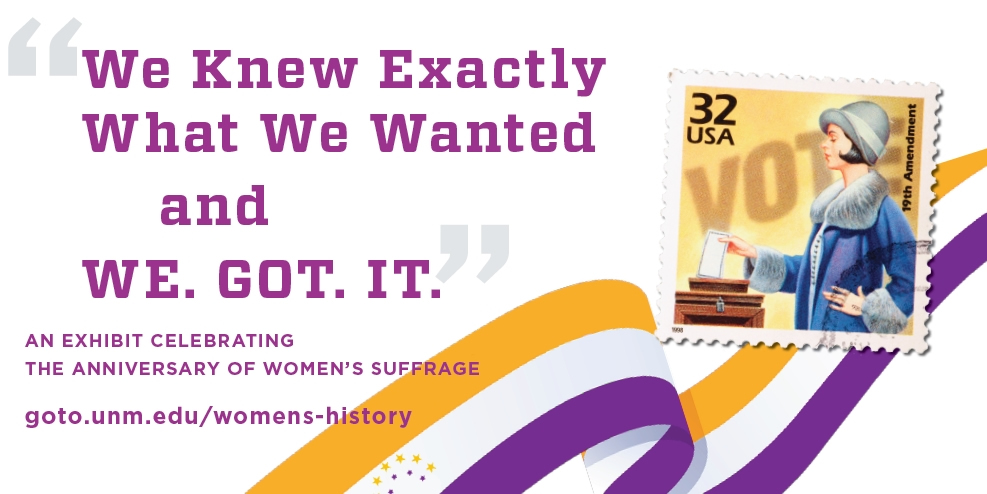 "We knew exactly what we wanted and we got it. . ." reflected Julia Brown Asplund about the fight for women's suffrage. Julia, a New Mexico leader, represents thousands of women who together built a grassroots campaign. National leaders like Elizabeth Cady Stanton, Susan B. Anthony, and Alice Paul relied on scores of citizens who met, marched, picketed, wrote, and fostered the fight for women's suffrage.
Equal parts protest movement, social reform and political process, the lessons learned from the fight for the women's vote can inform our understanding of political concerns and dynamics today.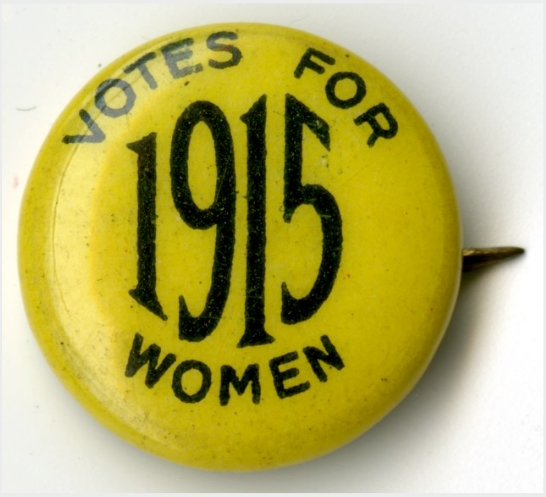 To celebrate the 100th anniversary of the passage of the 19th Amendment granting women the right to vote in the United States, University Libraries staff created this display with items and information from the Center for Southwest Research, Zimmerman Library, and Library of Congress. We have gathered rare archival materials, reproduced texts, buttons and postcards, created a Suffrage Quiz, and curated books to explore the history of suffrage, the constitutional amendment process and voting rights issues in the United States. Explore these materials below and on the pages linked to the right.
The National Fight for Suffrage
The US Constitution, as written in 1778, gave the right to vote only to white men with land although colonial women had asked for suffrage as early as 1634. In 1848, the first organized women's rights conference met in Seneca Falls, NY led by Elizabeth Cady Stanton and Lucretia Mott. Women then formed local clubs and national organizations to pressure the government for women's suffrage using a variety of tactics: letter writing, conventions, parades and picketing. After more than seventy years of continued protest, President Woodrow Wilson and the Congress were still in heated discussions over passage of the 19th Amendment throughout 1918.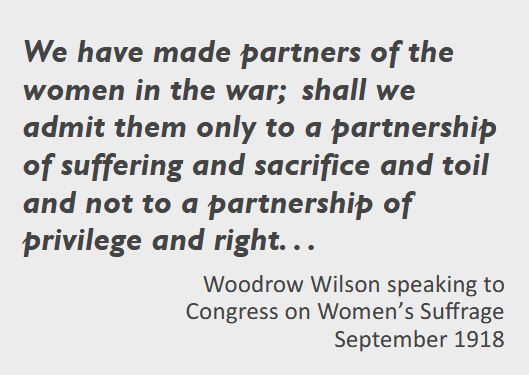 The 19th Amendment, also called the Susan B. Anthony Amendment, granted women the right to vote and hold office and was finally passed on June 4, 1919. Thirty-six states, the minimum number needed for the amendment to become law, approved it by August 1920, with three more joining by 1922. New Mexico ratified it on February 21, 1920. Maryland and six southern states did not ratify until many years later. In November 1920, over 27 million women across the country were able to vote in elections for the first time! In 2018, 53% of US voters were women. Imagine!
New Mexico & Suffrage
New Mexico became a territory in 1850 and a state in 1912. The newly drafted constitution restricted voting rights to men.
Article VII. Elective Franchise
Sec. 3 Every male citizen of the United States, who is over the age of twenty-one years, and has resided in New Mexico twelve months, in the county ninety days, and in the precinct in which he offers to vote thirty days, next preseding the election, except idiots, insane persons, persons convicted of a felonious or infamous crime, unless restored to political rights, and Indians not taxed, shall be qualified to vote at all elections for public officers.
New Mexico was unusual among the western states in not giving women suffrage in their original constitution. Even so, as the fight for women's suffrage swept across the nation, New Mexico and New Mexicans became an important part in finally achieving the vote.
The commemorative display and online exhibit were created by:
Marcy Botwick, Access Services, University LIbraries
Heather Maez, Access Services, University Libraries
Patricia Campbell, Marketing Manager, University Libraries
Nancy Brown-Martinez, Archivist, Center for Southwest Research
Jennifer Eggleston, Conservation Technician, Center for Southwest Research
Amy Winter, Program Specialist, Digital Initiatives & Scholarly Communication
More Resources About Women's Suffrage in New Mexico
A Centennial Glimpse into New Mexico's Suffrage Movement through "El corrido de la votación" by Carmella Scorcia Pacheco
Voting Rights in New Mexico
Fighting for the Right to Vote, Indian Pueblo Cultural Center
Online Books About Women's Suffrage in the United States